Introduction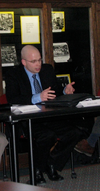 Welcome to my site on the web.  What follows are a collection of pages primarily devoted to the both the various classes I teach and the assorted research projects I have been involved with.  Regarding the former, this site serves as a more permanent collection of course materials than the various WebCT, BLS, ACORN, and D2L course management software I have used over the years.  Included are class descriptions, syllabi, notes, and a series of podcasts (or what I call 'coursecasts') based on lectures I have done in the past.  This should provide any prospective student with a sense of my teaching style, and thus a reasonable approximation of what to expect should you register for one of my courses.
The second purpose of this site is to serve as a repository of the work associated with my various research projects.  You will find draft forms of most of my research papers, as well as a collection of all the datasets I have created over the years.  Permission to download and use this data is given, provided proper citation is accorded. 
This site also features a regularly-updated series of links to current events related to the course material.  Students looking for paper topics will find the Twitter bar to the right similarly useful.
This site was originally built on iWeb and powered by MobileMe.  Once Apple discontinued support for iWeb I shifted to the website-building firm Jimdo.  The domain 'seanmclark.ca' was registered using Hover.  Additional widgets and code have come from Swiftype, Googlegadgets, and the World Bank.  All pictures outside blog posts were taken by myself, unless credit is otherwise provided.   
Finally, my thanks to Stephanie Clark, Dianne Moebis, Dan Fuller and Sabrina Hoque for their technical advice.  If anyone has any comments or suggestions, please feel free to contact me with the form provided.
*Photos are, left to right, a cow at my uncle's farm near Demaine, Sask; the barn at my Grandmother's farm just outside Beechy, Sask; and the village of Peggy's Cove, NS.  The header is a view of the South Saskatchewan River from Outlook's CPR bridge.  The profile picture is by Sabrina Hoque.
Quotations
"I would rather understand a single cause than be king of Persia." (Democritus of Abder)
"Canada 5, USA 2"
(2002 Winter Olympics, Men's Hockey Final)
"My centre is giving way, my right is in retreat, situation excellent. I attack."  
(Ferdinand Foch, Battle of Verdun)
"Well, we can't win at home and we can't win on the road. I guess my biggest failing as a coach is not being able to find anywhere else to play."  (Harry Neale)