I've said this
elsewhere
, but the The 5.11 bail-out bag is the best diaper bag around.
Set aside the tactical stylishness; the bag is unbeatably practical. The fact it is a) small enough to constrain the amount of baby gear you can bring—but also large enough to bring all the thingsyou *need*, and b) builtfor clear organization and quick access (there's similarity in the amount of urgency accompanying the need for magazines and a burp cloth) put it head-and-shoulders over anyof the purpose-builddesigns I've come across.
Not your typical every day carry (EDC), but my rig looks like this: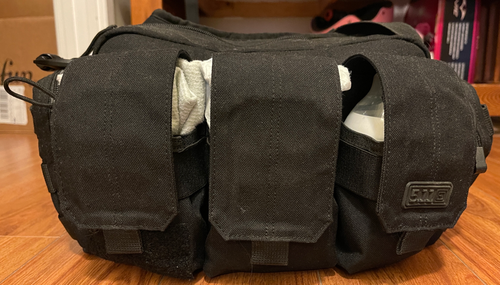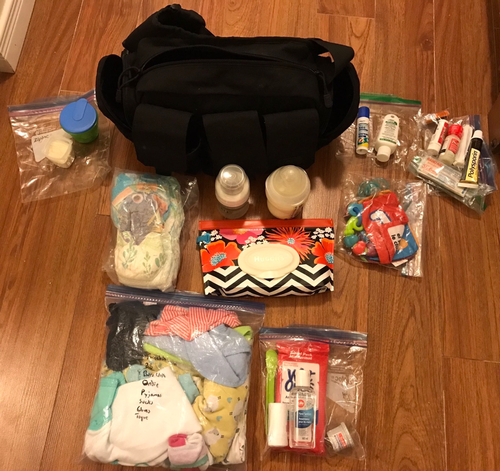 I try to sort as much of this by ziplock and keep everything in its correct compartment.  
The gear includes:
Formula container 
Snack Tupperware
Ziplock with a change of clothes (toque, mitts, socks, bib, face cloth, onesie, pyjamas, socks, toothbrush, spoon)
Ziplock for diaper kit (wet wipes, hand sanitizer, zincofax, and poop bags)
Water bottle for the formula 
Burp cloth in a magazine pocket (need the fast access!)
Ziplock with 4 diapers (3 regular and 1 swim) in a magazine pocket
Milk bottle in a magazine pocket
Ziplock with soother, ring toy, and crinkle book
Ziplock for sun screen and bug lotion
Ziplock for meds (baby Tylenol, bandaids, gravol, polysporin, and tums and Tylenol for you)
Wipe bag
There's really no upside for lugging a massive bag around; all you do is get stuff lost in there and thrash around when there's an (typically poop- or barf-related) emergency. Better to keep things simple.
Here's there's even enough room for a snack container. You can also attach a water bottle to the bag via carabiner, if you're going out for long and need extra water or milk.
In short, this bag will get you a full day's travel, then a change of clothes and prep for bed in case your kiddo crashes for the night. 
Bag available at 
https://www.511tactical.com/bail-out-bag.html
.